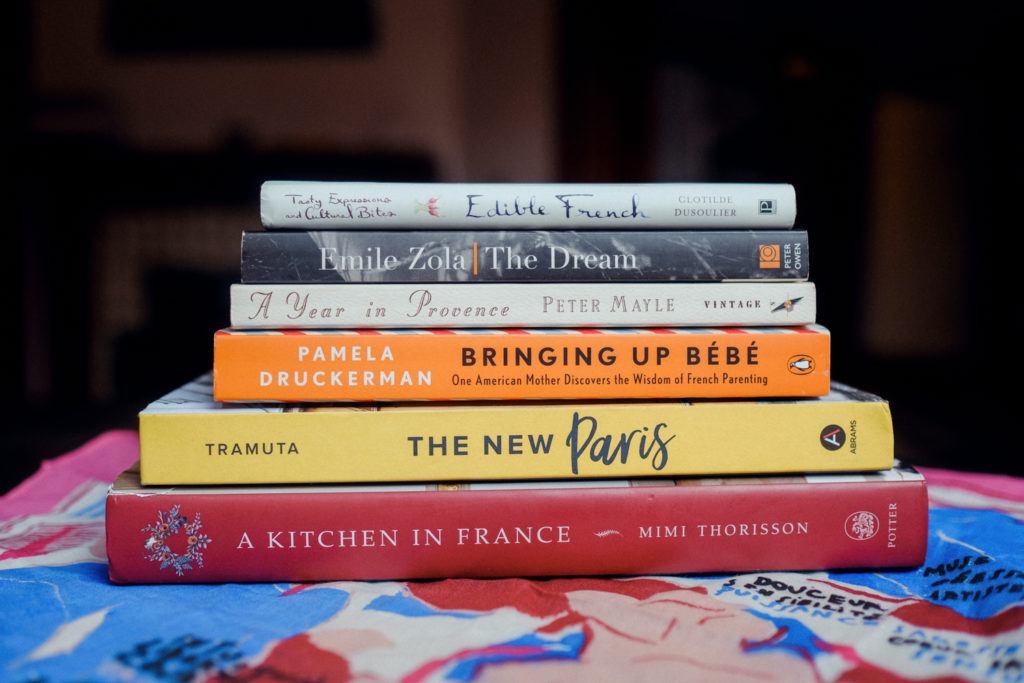 As most of my readers know, I'm both an avid reader and francophile. So I suppose it's only natural that I've read a truckload of books about France.
So here it is: the best books about France I've ever read, including fiction, non-fiction, and memoirs.
Note- all of these books take place in France. While some are set in Paris, I wanted to focus more on the entire country, not the capital.
Related post: 13 Must-Read Books About Paris to Read Before Your Trip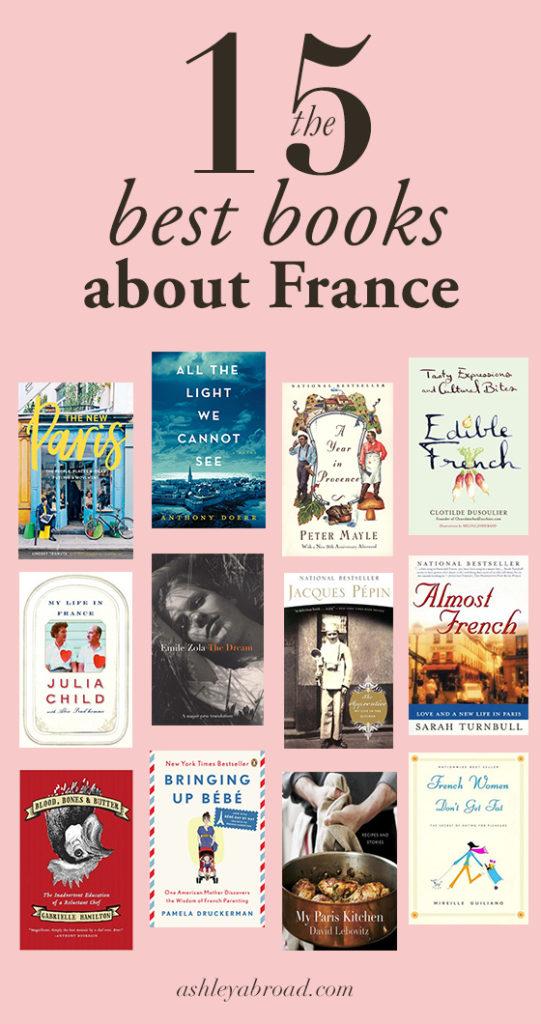 The best fiction books set in France
If you're looking for a classic novel set in France, look no further than The Dream. Written by 19th-century French novelist Émile Zola, The Dream is about Angélique, a sheltered orphan who falls in love with a much-older painter.
Written like a fairytale, this novel is a departure from Zola's other books, which are more serious and sociological in nature.
Émile Zola's novel The Belly of Paris is also excellent.
---
Moving onto contemporary novels set in France. Published in 2015, All the Light We Cannot See centers around the relationship between two unlikely friends: a blind French girl and a brilliant German soldier.
If you like historical fiction about WWII, I think you'll love this book. It won a Pulitzer prize after all!
---
The best non-fiction books about France
French Women Don't Get Fat is equally an explanation as to how French women stay trim as well as a guidebook on how to live a healthier, happier life.
This book demystifies "the French paradox", or how the French eat butter, chocolate, and bread every day and still stay thin. Guiliano gives no-nonsense, applicable advice on how to live and eat better. She advises you throw out the diet book and instead eat reasonable portions of delicious, seasonal food, something I wholeheartedly stand behind.
---
Edible French – Clotilde Dusoulier and Melina Josserand
Edible French is a charming book that explores the meaning of 50 food-related French expressions. Here are a few of my favorites:
Tomber dans les pommes (falling into the apples) = to faint
Être comme un coq dans pâte (being like a rooster in dough) = feeling cozy and pampered
Avoir un cœur d'artichaut (having the heart of an artichoke) = to fall in love easily
The book is accompanied by gorgeous illustrations. If you have a francophile in your life, it would make an excellent gift.
---
The New Paris explores the Paris of today, not yesterday. A city often mired in the past, American journalist and blogger Lindsay Tramuta seeks to highlight the modern creatives and entrepreneurs who are changing Paris today.
This would be an excellent coffee table book for any francophile – the photos alone justify the cost of the book.
60 Million Frenchmen Can't Be Wrong is a deep-dive into the economy, politics, and history of France.
The book is divided into three sections: French history, the French lifestyle, and predictions for the future. While I've spent a lot of time in France, this book taught me a lot about the country that I didn't know.
---
The Best Memoirs about France
This is one of my favorite books about French culture, full of hilarious observations about France. Here's the story: Pamela Druckerman, an American journalist, moves to Paris with her English husband. After having a baby, she soon finds out parenthood in France is like worlds away from anything she's experienced before.
Even if you don't have kids, this book is a fantastic read.
---
Almost French is the true-life story of an Australian woman who plans on visiting Paris for a week and, spoiler alert — ends up falling in love with a Frenchman and staying much longer.
One negative point – I wish we had learned more about her French boyfriend and their relationship. For some reason, he's barely in the book.
---
The Apprentice follows famed French chef and TV personality Jacques Pépin through his childhood in rural France to the beginnings of his culinary career in the US and his eventual fame and fortune.
Though Pépin may have a sunny personality on TV, his memoir made it clear that he did not have it easy; from growing up on WWII rations to training in an militaristic, Escoffier-style kitchen, he has overcome many struggles throughout his life.
This book made me love Pépin — he seems like the most adorable person in the world. I wish he was my grandfather and would cook French meals for me. I honestly LOVED this book and would recommend it to anyone who loves food or France.
---
My Life in France is about Julia Child's expat life in France, as well as her journey to becoming a TV personality and cookbook author.
What I respect most about Julia Child is over-the-top food nerdery. I especially enjoyed reading about how she MacGyver'd the perfect baguette baking conditions by dropping a hot brick in a pan of water in the oven.
If you're curious about Julia Child's life in France, I highly recommend this book.
---
Blood, Bones & Butter is Gabrielle Hamilton's memoir about growing up in Pennsylvania with a French mother, and later becoming a world-famous chef. In the book, she travels to France to rediscovers her French roots.
Hamilton is a great writer; I especially loved her candor when describing career uncertainties and marriage troubles. There's a reason that Anthony Bourdain described this book as "simply the best memoir by a chef ever."
---
Tired of his life in England, Peter Mayle decides to uproot his life and move to Provence. This book details his triumphs and struggles to become integrated into a tiny French town, complete with nosy neighbors and a 200-year old farmhouse in constant need of repair.
Originally published in 1989, this book is still a joy to read.
P.S. Peter Mayle's other books about Provence, Toujours Provence and My Twenty-Five Years in Provence, are also excellent!
---
You may know Eric Ripert from TV show Parts Unknown. Formerly a close friend of Anthony Bourdain, Ripert is the famed French chef behind three-star Michelin restaurant Le Bernardin.
This autobiography is the story of Ripert's upbringing in France. Ripert grew up in the south of France, the lonely child of divorced parents. He rose to fame through the rigorous kitchens of Paris' elite restaurants, eventually moving to the United States.
I loved reading about Ripert's story; he seems like the most elegant, self-effacing person who truly deserves his success.
---
The Best French Cookbooks
Mimi Thorisson is the blogger behind Manger, a food blog that features dreamy food photography in France and beyond. Her cookbook, A Kitchen in France, focuses on seasonal French recipes and is similarly full of stunning photography.
If you're a francophile in need of a new cookbook, I highly recommend this one.
---
My Paris Kitchen is one of my favorite French cookbooks, featuring some of David Lebovitz's best sweet and savory recipes.
One thing to note the recipes aren't just French, but also Moroccan, Indian and even American to reflect Paris' rich ethnic landscape. As per usual, the book contains lots of Lebovitz' wry remarks on French culture.
Buy the cookbook on Amazon here.
---
What books about France am I forgetting? Have you read any of these ones?
P.S. 13 Must-Read Books About Paris to Read Before Your Trip and What Living as an Expat in France is Really Like.
Keep reading this article on Ashley Abroad.